Dentures
---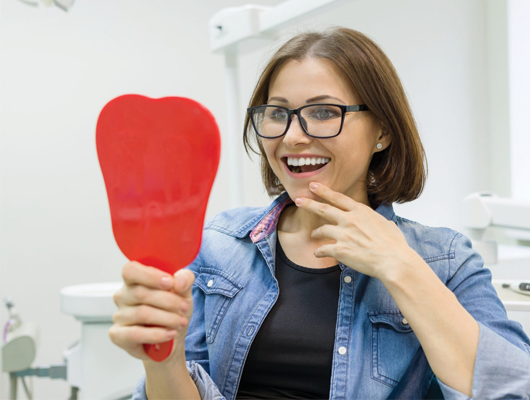 Are you tired of feeling self-conscious about missing teeth? Are you looking for a solution to restore your smile and improve your oral health? Dentures may be the answer for you! This guide will provide all the information you need about dentures, including the types, benefits, and maintenance.
The skilled team at City Square Dental of Woodstock, IL, is proud to serve the local community with premium dental services, including high-grade dentures that restore and refresh your confidence in your daily activities.
What are Dentures?
Dentures are removable dental appliances that replace missing teeth and their surrounding tissues. They are custom-made to fit your mouth and can be made from various materials, such as acrylic, resin, or porcelain. Dentures can replace a few missing teeth or a full arch of teeth.
Types of Dentures
There are two main types of dentures: partial dentures and complete dentures.
Partial dentures are used when you have some natural teeth remaining. They consist of replacement teeth attached to a gum-colored base connected to a metal framework. The framework is designed to attach to your remaining natural teeth, which provides stability and support for the denture.
Complete or full dentures are used when you have lost all of your natural teeth. They consist of a full set of replacement teeth attached to a gum-colored base that covers your entire upper or lower jaw. Complete dentures can be held in place with denture adhesive or attached to dental implants.
Benefits of Dentures
Dentures offer a number of benefits, including:
Better oral health: Missing teeth can cause bone loss and gum disease, leading to further tooth loss. Dentures help maintain the health of your remaining teeth and gums.
Enhanced speech and chewing: Dentures can improve your ability to speak and eat, allowing you to enjoy your favorite foods and confidently communicate.
Increased self-confidence: Dentures can help you feel more confident in social situations, improving your quality of life.
Your Quality Dental Care Provider
Dentures are a popular solution for restoring missing teeth and improving oral health. They offer many benefits, including improved appearance, oral health, speech and chewing, and increased self-confidence. Dentures can provide a long-lasting solution for your dental needs with proper maintenance and care.
During your next appointment with the qualified team at City Square Dental of Woodstock, IL, you can be sure you receive the best care and guidance you and your family deserve.