Posts for: December, 2018
By City Square Dental
December 21, 2018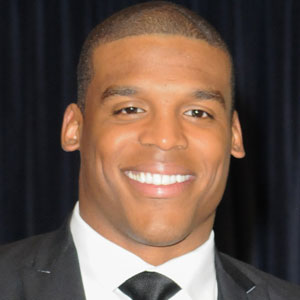 When is the best time to floss your teeth: Morning? Bedtime? How about: whenever and wherever the moment feels right?
For Cam Newton, award-winning NFL quarterback for the Carolina Panthers, the answer is clearly the latter. During the third quarter of the 2016 season-opener between his team and the Denver Broncos, TV cameras focused on Newton as he sat on the bench. The 2015 MVP was clearly seen stretching a string of dental floss between his index fingers and taking care of some dental hygiene business… and thereby creating a minor storm on the internet.
Inappropriate? We don't think so. As dentists, we're always happy when someone comes along to remind people how important it is to floss. And when that person has a million-dollar smile like Cam Newton's — so much the better.
Of course, there has been a lot of discussion lately about flossing. News outlets have gleefully reported that there's a lack of hard evidence at present to show that flossing is effective. But we would like to point out that, as the saying goes, "Absence of evidence is not evidence of absence." There are a number of reasons why health care organizations like the American Dental Association (ADA) still firmly recommend daily flossing. Here are a few:
It's well established that when plaque is allowed to build up on teeth, tooth decay and gum disease are bound to follow.
A tooth brush does a good job of cleaning most tooth surfaces, but it can't reach into spaces between teeth.
Cleaning between teeth (interdental cleaning) has been shown to remove plaque and food debris from these hard-to-reach spaces.
Dental floss isn't the only method for interdental cleaning… but it is recognized by dentists as the best way, and is an excellent method for doing this at home — or anywhere else!
Whether you use dental floss or another type of interdental cleaner is up to you. But the ADA stands by its recommendations for maintaining good oral health: Brush twice a day for two minutes with fluoride toothpaste; visit your dentist regularly for professional cleanings and checkups; and clean between teeth once a day with an interdental cleaner like floss. It doesn't matter if you do it in your own home, or on the sidelines of an NFL game… as long as you do it!
If you would like more information about flossing and oral hygiene, contact us or schedule an appointment for a consultation.
By City Square Dental
December 11, 2018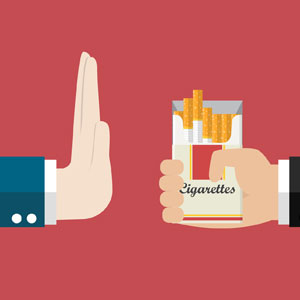 Your risk for periodontal (gum) disease increases if you're not brushing or flossing effectively. You can also have a higher risk if you've inherited thinner gum tissues from your parents. But there's one other risk factor for gum disease that's just as significant: if you have a smoking habit.
According to research from the U.S. Centers for Disease Control (CDC), a little more than sixty percent of smokers develop gum disease in their lifetime at double the risk of non-smokers. And it's not just cigarettes—any form of tobacco use (including smokeless) or even e-cigarettes increases the risk for gum disease.
Smoking alters the oral environment to make it friendlier for disease-causing bacteria. Some chemicals released in tobacco can damage gum tissues, which can cause them to gradually detach from the teeth. This can lead to tooth loss, which smokers are three times more likely to experience than non-smokers.
Smoking may also hide the early signs of gum disease like red, swollen or bleeding gums. But because the nicotine in tobacco restricts the blood supply to gum tissue, the gums of a smoker with gum disease may look healthy. But it's a camouflage, which could delay prompt treatment that could prevent further damage.
Finally because tobacco can inhibit the body's production of antibodies to fight infection, smoking may slow the healing process after gum disease treatment.  This also means tobacco users have a higher risk of a repeat infection, something known as refractory periodontitis. This can create a cycle of treatment and re-infection that can significantly increase dental care costs.
It doesn't have to be this way. You can substantially lower your risk of gum disease and its complications by quitting any kind of tobacco habit. As it leaves your system, your body will respond much quicker to heal itself. And quitting will definitely increase your chances of preventing gum disease in the first place.
Quitting, though, can be difficult, so it's best not to go it alone. Talk with your doctor about ways to kick the habit; you may also benefit from the encouragement of family and friends, as well as support groups of others trying to quit too. To learn more about quitting tobacco visit www.smokefree.gov or call 1-800-QUIT-NOW.
If you would like more information on how smoking can affect your oral health, please contact us or schedule an appointment for a consultation. You can also learn more about this topic by reading the Dear Doctor magazine article "Smoking and Gum Disease."