Posts for: November, 2018
By City Square Dental
November 20, 2018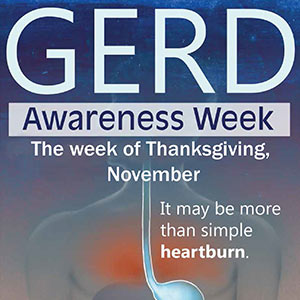 Not coincidentally, GERD Awareness Week overlaps with the Thanksgiving holiday. Many people get acid indigestion from time to time, especially during this month of major feasting, but if you suffer from more than occasional acid reflux, you may be among the 20 percent of U.S. adults with gastroesophageal reflux disease, or GERD. For many individuals, painful heartburn often accompanies acid reflux; however, for others there are few or no symptoms. In the latter situation, dentists may be the first to suspect GERD based on what we see during a regular dental exam.
With GERD, acid washes up from the stomach into the esophagus or throat, and even into the mouth. If the condition is not treated, the repeated contact with acid can lead to ulcers and cause pre-cancerous cell changes along the esophagus lining. In addition, the acids can eat away at tooth enamel and harm the soft tissues of the mouth, which may result in severely eroded teeth and chronic gum disease. Unfortunately for those who have relatively minor symptoms, GERD may go undetected until serious damage has been done. For this reason, diagnosis and treatment of GERD is very important.
You can play a big role in managing your GERD symptoms. Besides taking any over-the-counter or prescription medication your doctor recommends, you can help control acid reflux by eating smaller meals, avoiding foods and beverages that trigger heartburn, refraining from eating within three hours of bedtime, and resisting the urge to recline right after eating. Also, quitting smoking and taking off extra weight can help greatly.
Further, it is important to take steps to protect your teeth if you suffer from GERD. Here are some tips:
Neutralize acid by chewing on an antacid tablet or rinsing your mouth with half a teaspoon of baking soda mixed into a cup of water.
Don't brush your teeth immediately after an episode of acid reflux, as this could damage the weakened tooth enamel. Instead, rinse your mouth with water to dilute the acid and wait an hour before you brush to allow your saliva to rebuild the minerals on the surface of your teeth.
Schedule regular dental visits to monitor the health of your teeth and gums. Depending on your specific situation, we may recommend a particular treatment to help strengthen your teeth.
Our goal is to help you preserve your teeth for life, so be sure to tell us if you have been diagnosed with GERD or any other medical condition. If you have questions, contact us or schedule an appointment for a consultation. You can learn more in the Dear Doctor magazine articles "GERD and Oral Health" and "Tooth Decay: How to Assess Your Risk."
By City Square Dental
November 10, 2018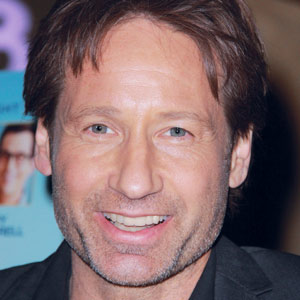 In real life he was a hard-charging basketball player through high school and college. In TV and the movies, he has gone head-to-head with serial killers, assorted bad guys… even mysterious paranormal forces. So would you believe that David Duchovny, who played Agent Fox Mulder in The X-Files and starred in countless other large and small-screen productions, lost his front teeth… in an elevator accident?
"I was running for the elevator at my high school when the door shut on my arm," he explained. "The next thing I knew, I was waking up in the hospital. I had fainted, fallen on my face, and knocked out my two front teeth." Looking at Duchovny now, you'd never know his front teeth weren't natural. But that's not "movie magic" — it's the art and science of modern dentistry.
How do dentists go about replacing lost teeth with natural-looking prosthetics? Today, there are two widely used tooth replacement procedures: dental implants and bridgework. When a natural tooth can't be saved — due to advanced decay, periodontal disease, or an accident like Duchovny's — these methods offer good looking, fully functional replacements. So what's the difference between the two? Essentially, it's a matter of how the replacement teeth are supported.
With state-of-the-art dental implants, support for the replacement tooth (or teeth) comes from small titanium inserts, which are implanted directly into the bone of the jaw. In time these become fused with the bone itself, providing a solid anchorage. What's more, they actually help prevent the bone loss that naturally occurs after tooth loss. The crowns — lifelike replacements for the visible part of the tooth — are securely attached to the implants via special connectors called abutments.
In traditional bridgework, the existing natural teeth on either side of a gap are used to support the replacement crowns that "bridge" the gap. Here's how it works: A one-piece unit is custom-fabricated, consisting of prosthetic crowns to replace missing teeth, plus caps to cover the adjacent (abutment) teeth on each side. Those abutment teeth must be shaped so the caps can fit over them; this is done by carefully removing some of the outer tooth material. Then the whole bridge unit is securely cemented in place.
While both systems have been used successfully for decades, bridgework is now being gradually supplanted by implants. That's because dental implants don't have any negative impact on nearby healthy teeth, while bridgework requires that abutment teeth be shaped for crowns, and puts additional stresses on them. Dental implants also generally last far longer than bridges — the rest of your life, if given proper care. However, they are initially more expensive (though they may prove more economical in the long run), and not everyone is a candidate for the minor surgery they require.
Which method is best for you? Don't try using paranormal powers to find out: Come in and talk to us. If you would like more information about tooth replacement, please contact us or schedule an appointment for a consultation. You can learn more in the Dear Doctor magazine articles "Crowns & Bridgework," and "Dental Implants."